Issue: Some guests cannot get a full cash refund under coronavirus (COVID-19) policy
When cancelling on Airbnb, guests whose reservation qualifies for Covid-19 Extenuating circumstances policy can choose:
Alteration
Refund back to payment method per cancellation policy (under this option guests may see partial or no refund)
Airbnb Travel Credit
File a Personal Extenuating Circumstance (this option gives a full cash refund)
Instruction how to get a full refund in cash canceling a reservation for a place to stay due to coronavirus (COVID-19)
To get a full money refund to the card guests whose reservation qualifies for Covid-19 Extenuating circumstances policy will need to send a cancellation request under Personal Extenuating Circumstance.
Note: Please use Airbnb.com website (PC/Mac/Laptop) for this instruction. Airbnbase community members reported issues with cancellation using Airbnb app on a mobile device.
The guest needs to click "Learn more" at the bottom of the cancellation page if they wish to cancel with a full cash refund.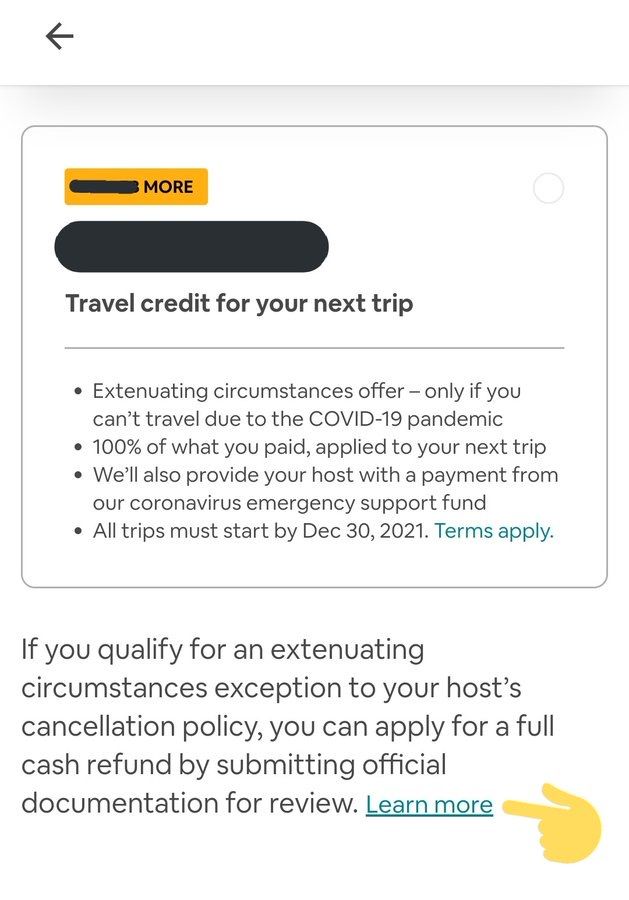 2. Select the reason for COVID-19 cancellation.
3. Upload documentation confirming government-mandated restriction or medically mandated restrictions or transportation disruptions or closures or medical or disease control duties.
The confirmation can be such as a screenshot of the government website or email or a link to an official statement from the authorities or from the carrier or medical institution. Please avoid sending links to media articles or travel agent advises.
4. Input a short note to Airbnb about the cancellation.
5. The guest will see a confirmation page when the process is complete.
6. Soon you will receive an approval by email.
Airbnbase expert comment: Airbnb reviews Personal Extenuating Circumstance fast. Normally within an hour, but may take up to 1-2 days. They approve the  majority of the cancellation requests and guests get a full refund, very small percent of claims is being declined.
To let us know this post helped you, please share it on social media and subscribe. Thank you 🙏