On Friday, September 25, 2020 Airbnb launched Nearby Getaways Promotion to support local travel.
How it works
Host from the areas where the promotion is active receive an invitation.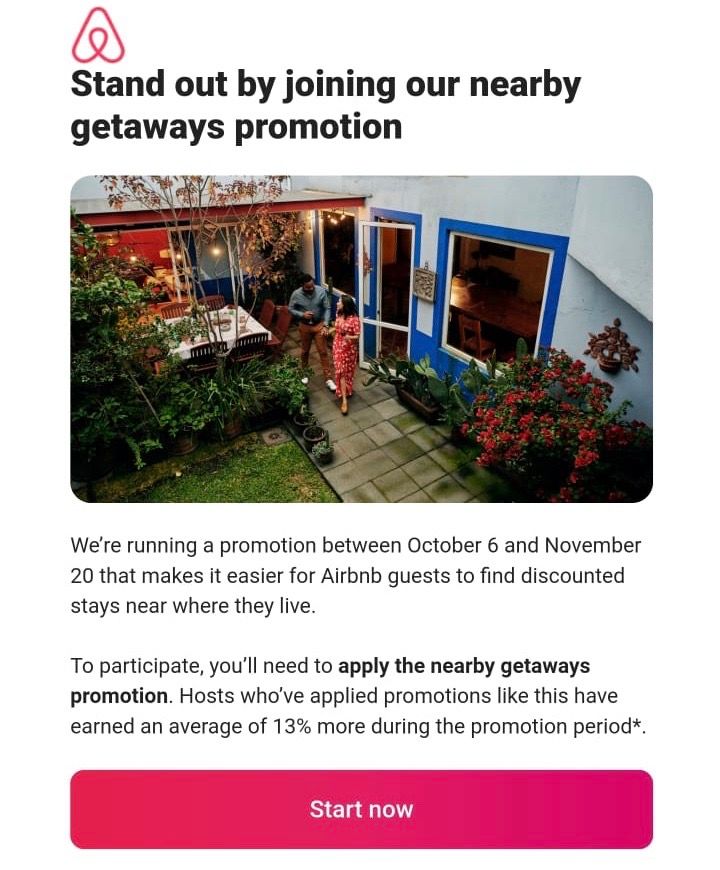 Once offer 10% off for nights between October 6 and November 20, 2020 applied Airbnb will:
How we'll showcase your place
An email to millions of guests announcing local discounts
Search results on a marketing page shown to guests planning trips close to home
Strikethrough styling on search pages and your listings
Eligibility for a spot in emails we send to guests who searched in your area
Issues to join Nearby Getaways Promotion
However, many hosts are not able to apply the offer.
I have an email inviting me to join "nearby getaways promotion" - when I press the "Start Now" button it transfer me to my Airbnb account - but there is no link or selection to actually joining or dates etc. Please tell me where to find this.
What Airbnbase discovered:
• Hosts need to use Airbnb website (not the app) to set the promotion.
• The dates October 6 - November 20 should be available (unblocked) in the calendar.
• There should be no any other discounts including length-of-stay discount to apply the offer.
• At the moment the dates of the promotion cannot be adjusted
• By clicking the button below you can apply or check the Nearby Getaways Promotion
Nearby Getaways Promotion