On August 19, 2020 Airbnb filed for an initial public offering with US regulators. Airbnb IPO was held on December 10, 2020 at $68 per share and $146 (+114,71%) oppening price on the first day of trading.
Invest In Airbnb
💡
This IPO has already been completed. It was available for participation through the following IPO brokers:
Freedom
in the EU and
Fidelity
in the US. Share are already available for trading via
Freedom Finance
platform 🚀
Now, after the Airbnb IPO you still can:
Buy Airbnb stocks without paying commissions now, after the IPO
Detailed instructions below👇
What is an IPO and how it works
IPO is a process of offering shares of a private corporation to the public in a new stock issuance. Why go public? The primary benefit of going public is easier access to capital.
To go public, a company must have a track record of growth and other favorable results and hire an investment bank (Morgan Stanley and Goldman Sachs in Airbnb case) to come in and underwrite the IPO. The underwriters also performed due diligence and verified financial information and business model.
Once the paperwork done, the company sells the stock to institutional investors. When the initial block of shares has been sold, the company sets an initial price and date for the stock to begin trading on a stock exchange.
Is investing in IPOs profitable?
Not always. The average return at the end of the lock-up period is 52%, past IPOs data.
How to Buy Stocks Before the IPO (Offering Price)
In the past, IPOs as highly profitable investments were available only to the privileged customers of the leading brokerage firms and it was challenging for retail investors to gain access. You couldn't buy shares paying the price set by the company and you had to wait until the shares actually start trading on the public stock market at whatever stock price supply and demand allows.
Technologies and marketplaces changed the rules of the game, now regular investors can get pre-IPO shares. To participate in IPO you need to use an IPO investing app like Freedom Finance (NASDAQ: FRHC), TD Ameritrade or Fidelity. They give its customers access to IPOs and secondary offerings through their existing brokerage account. Also you can buy shares when a company goes public via a commission-free trading app like eToro or Webull.
How to Find Brokers that Provide Access to an IPO?
You can use an IPO information platfrom like IPObase to find IPO broker, they monitor upcoming IPOs and match them with available brokers.
🚨 Detailed Instruction How to Participate in an Initial Public Offering before public trading:
Below we share the instruction how to participate in the approaching IPOs using Freedom Finance (Freedom24 platform).  This marketplace is chosen as an example because they have the widest selection of available initial offerings, popular high-profile IPOs can normally be purchased there.
🎁 Special limited time offer for European Union citizens or residents aged at least 25 years - you will get a free share if you now open a new account through this link. The value of a stock that you will receive in your account may vary in the range of USD $600, with companies like Netflix, Ford, Microsoft etc.
* Freedom Finance services are NOT available to US citizens and residents.
Apply for a Freedom Finance account — you need to prepare your identity document and a document confirming the address of residence (utility bill). The verification process is very fast, it will take 2 minutes to create your account.
Deposit your account — to participate in an IPO, your account must have available funds in the amount you send IPO application for.
Wait for a request to participate in the IPO  — a few days before IPO date you will get a notification (email and SMS text message) from Freedom Finance. You will have about 48 hours to apply for the IPO.
Submit a request to participate in the IPO — when you get a notification that you can apply to buy shares, go to IPO section of the platform > you will see the IPO listing with the share price set by the underwriter > click Participate in the IPO > input the amount you want to invest > Send your application. Note: Before the book closing, a request can be withdrawn. At the time of the book closing, 1 day before the start of the exchange trading, the specified amount will be blocked on the account.
Wait for allocation — The actual number of stocks purchased during an IPO depends on supply and demand. The higher underwriter reserves the right to partial execution of collective applications. So if the demand is high you may get less than you applied for. Of course, you will only pay for the shares purchased. The rest of the funds will be returned to your account.
Start of trading — With the beginning of the public trading on the stock exchange, the purchased shares will appear on the account and a lock-up period will start— a 93-day period of prohibition on sale. You can't sell stocks, but you can track their current value and growth indicators in your personal member area and a trading terminal.
Closing your trade — At the end of the 93 days lock-up period, you will be able to manage your stocks at your discretion — leave in the portfolio or sell and withdraw money or transfer the stocks to another depository/ broker in your name. This can be done in your account by clicking the 'Sell' button next to the name of the security. In this case, a commission of 0.5% of the amount of the sale transaction is charged.
Participate In IPOs like Airbnb
What IPOs Are Coming in 2021?
When was the Airbnb IPO date
Airbnb IPO offering was held on December 10, 2020.
How to Invest in Airbnb Now (after the IPO date)?
After the IPO you can buy Airbnb stocks via a commission-free trading app like eToro. Airbnb ticker is already added to the app and will be available for trading from about December 10, 2020.
Instruction How to buy Airbnb stocks without paying commission?
You can buy Airbnb ABNB shares via a commission-free trading app like eToro.
Fund your account
Type into the search Airbnb or ABNB and click "Trade"
Choose "Buy" and enter your amount
Your capital is at risk. Other fees apply. For more information, visit etoro.com/trading/fees.
What is the Airbnb stock opening price?
Airbnb opened at $146 with market cap close to $90bn, a 114%+ premium to the IPO price.
What is the current Aibnb share price?
When is Airbnb stock first trading day?
Airbnb plans to begin trading on Thursday, about December 10, 2020 on Nasdaq under the symbol ABNB.
What is the Airbnb ticker (stock symbol)
Airbnb's ticker is ABNB
Airbnb IPO price range
The price range is $44.00 - $50.00 share.
UPD_2: Airbnb Inc. priced its shares at $68. The price exceeds the target range of $56 to $60 a share the company established earlier this week
UPD: On Dec 7 Airbnb (ABNB) boosted its IPO price range to $56-60 from $44-50.
If the IPO is successful, the company's market cap will exceed $47B. Which seems to be fair if to compare with $85B Booking.com BKNG market capitalization.
In what currency Airbnb IPO and post-IPO shares are traded?
The Airbnb IPO and stock trading currency is USD.
If you have funds in another currency the cheapest way to convert your currency is to use the mid-market rate (that's the one you'll find on Google) which can be done via a fintech service like Transferwise. Banks may add hidden markups to their exchange rates - charging you more without your knowledge. And if they have a fee, they charge you twice. TransferWise never hides fees in the exchange rate.
Financial Indicators before Airbnb IPO

Airbnb has raised more than $4.5Bn in capital, its guests have booked more than 1 million nights globally, and booked $4.8bn in revenue in 2019. In 2020, there was about 67% decline in earnings due to COVID-19, but the company weathered this period by getting 1Bn loan and cutting 25% of staff. The company began seeing signs of recovery in June, with bookings down only 30% from the same month in 2019. That compared with a 70% decline in May from a year earlier.
Now Airbnb is growing faster (+32% revenue gain) than competitors Booking Holdings (+3%) and Expedia Group (+7%). Also the personality of the CEO and founder Brian Chesky is the key factor what previous investors like Silver Lake took into account.
The company expects a weak winter season in Q4, not only because the number of COVID-19 cases is steadily growing, but because of the low season arrival as well: over the last three years, the number of bookings is usually the highest in Q3, while it plunges significantly in Q4.
With the pandemic having influenced the growth and the ROI, the management does not have any high expectations. This, however, might open up new opportunities for growth, when there are finally less COVID in the EU, and new widespread vaccines arrive in Q1 and Q2 2021. Again, even currently, in Q3, Airbnb performed better than its competition.
Airbnb IPO key facts
● IPO Date: December 10
● Exchange: NASDAQ (trading as ABNB)
● IPO Size: $3,7B
● Starting Price: $68.00
● Underwriters: Morgan Stanley, Goldman Sachs
● Earnings in 9 mon. 2020: $2,51B
● EBIT in 9 mon. 2020: -$490M
● Net Profit in 9 mon. 2020: -$697M
● Net Debt in 9 mon. 2020: 0
Airbnb IPO filling document S-1
As filed with the Securities and Exchange Commission on November 16, 2020.
Previous Airbnb Funding
Airbnb has raised at least $6.4 billion from investors like Sequoia Capital and General Atlantic. It was last valued at around $18 billion after a $1 billion private equity round in April.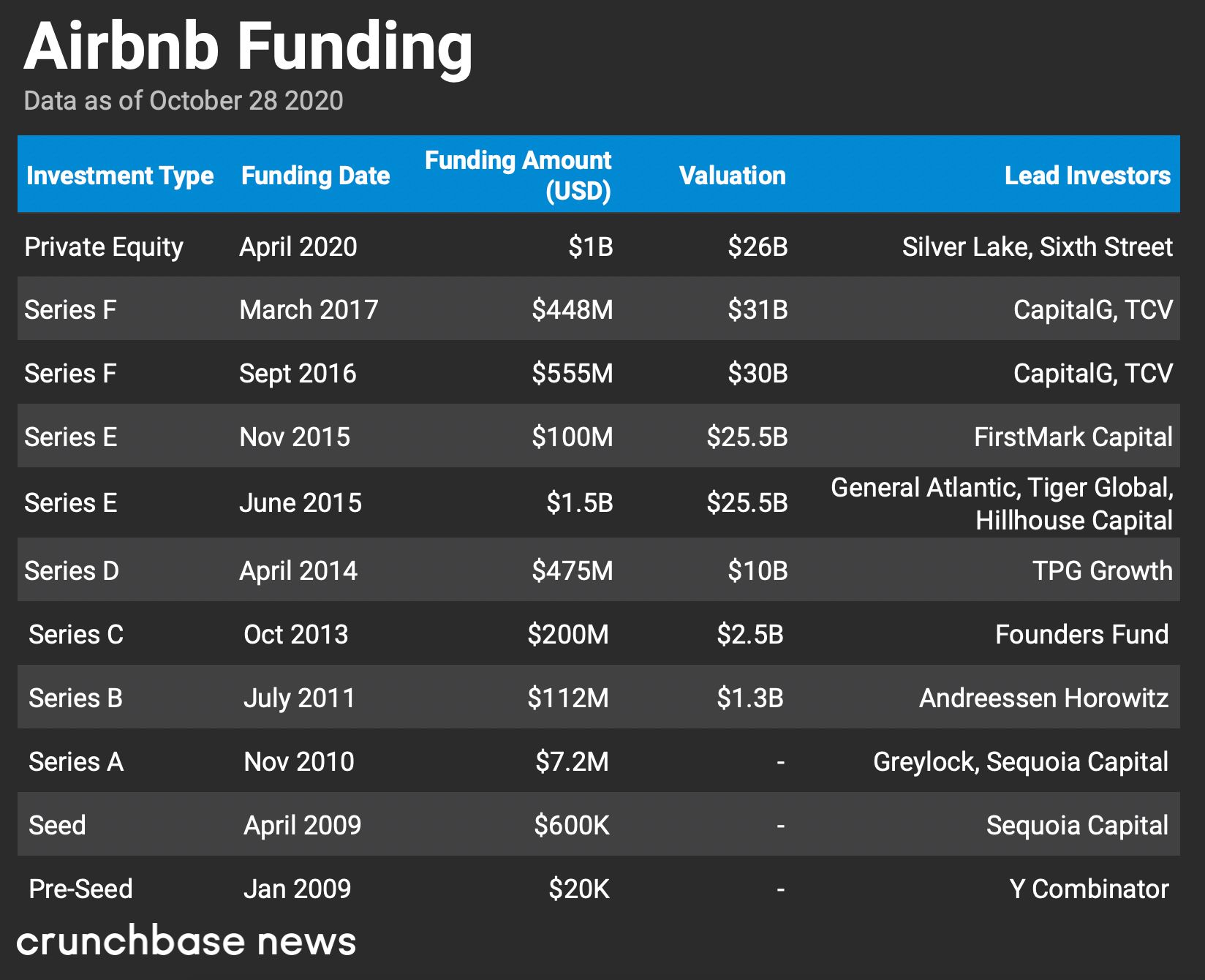 Is it possible to Buy pre-IPO shares from Airbnb directly?
Only eligible hosts in the U.S. could apply for the IPO on offering price. Pre-registration emails have been already sent out to the eligible hosts to register.
The type of stock that is being offered to host is Class H stock and they are offering 9,200,000 shares to eligible hosts to purchase. These shares do not have any voting rights and once sold are converted into Class A shares.
Will selected hosts get a discount from Airbnb? No, partially because of the regulation.
What will be the allocation (maximum share number to purchase) and the lockup period (period of prohibition on sale)? Unknown yet, we will get this post updated when Airbnb releases the details.
What are the benefits of buying stocks from Airbnb? Your only savings from buying directly is the brokers fee, but now many platforms (mentioned above) offer fee-free trading or the commission is very small.  Still with a broker/ investing app you will have more flexibility and can get a larger allocation.
How do I sell Airbnb stocks purchesed via Directed Share Program?
If you purchesed ABNB stocks via Directed Share Program share program you can sell stock over the phone only by calling Morgan Stanley (the number should be presented under your Morgan Stanley account) to place a sell order.
For assistance with Morgan Stanley accounts: 1 (888) 454-3965 (toll free) or +1 (801) 902-6997 (Outside the U.S.)
Is there Airbnb lock up period for stocks purchased via Directed Share Program?
No, you can sell your Airbnb stocks purchesed via Directed Share Program anytime.
Airbnb's IPO timeline
October 26, 2020 – Airbnb's board has confirmed a 2-for-1 split of privately held shares before the planned IPO, according to an email reviewed by Bloomberg News. The increase in Airbnb's value coincides with the rebound of Airbnb books over the summer after the spring plunge caused by the coronavirus pandemic.
October 30, 2020 – Airbnb hosts will not be given cash bonuses to buy shares (partially for regulatory reasons). But instead Airbnb introduced the Airbnb Host Advisory Board and putting aside 9.2 million shares for an "endowment" that's intended to help hosts.
November 11, 2020 – Airbnb plans to make public the regulatory filing and prospectus or its IPO next week until November 20, 2020.
November 16, 2020 – Eligible hosts in the U.S. may be able to participate in the IPO on offering price. Pre-registration emails have been already sent out to the eligible hosts to register.
November 16, 2020 – Freedom Finance confirmed they will start accepting applications for Airbnb IPO on November 26, 2020
December 7, 2020 – Airbnb (ABNB) boosts its IPO price range to $56-60 from $44-50, which would give the home-rental company a valuation as high as $42B
Decembe 10, 2020 – Airbnb Inc. priced its shares at $68.